Building and Construction Process in Beaver Cove
Please obtain, fill out and return to the office a driveway permit. We have them in the office or print one off here.
Your first step in the building construction process (whether it is for a new construction, addition, garage, shed or other permanent structure) is to fill out the application and bring or send to the office for approval with the Roads Coordinator to avoid any further issues with installing driveways and existing culverts and roads. The Town after reviewing will send to LUPC (Land Use Planning Commission). LUPC requires an 8 1/2″ X 11″ sketch of all proposed buildings or alterations. All the details of your plan must be included on paper. If your lot happens to be located within the jurisdiction of one of the three associations in town (either the Beaver Cove,  North Ridge or Burnt Jacket Association), simply make a photo copy of the plans that you submit to LUPC and send it to the association. Upon LUPC approval, the association Architectural Review Committee will have to give its final approval of your proposed plan based upon the covenants of the association. If you do not have an association, then once LUPC approves your plan, you are ready to build. All new construction of septic systems or rehabilitation of older systems must be approved by the Town plumbing inspector. Systems should not be covered over until this final inspection and approval is received. There is only ONE (1) authorized plumbing inspector for Beaver Cove. Contact the Town Office for more information. Please note that more detailed maps below are available in the Town Office for the public to view.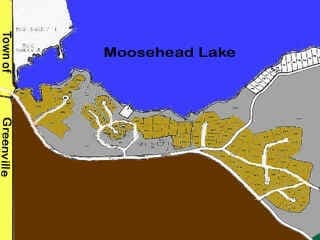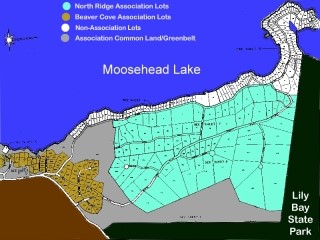 For further information on LUPC's rules, regulations, and the application process, please contact them at the local office located in Greenville. Their phone number is (207) 695-2466.
Land Use Planning Commission: https://www.maine.gov/DACF/lupc/ 
For more information on association covenants, variance procedures and more, please contact the applicable association that you belong to:

Beaver Cove Association
Architectural Review Committee
Robert Frederick, Chair
795 Lily Bay Road – Unit 702
Beaver Cove, ME  04441
207-695-2912

North Ridge Association
Architectural Review Committee
795 Lily Bay Road Unit 713
Beaver Cove. Me. 04441

Burnt Jacket Property
Owners Association
795 Lily Bay Rd Unit #708
Beaver Cove, Me 04441

The town requests that you provide a copy of your title transfer from the county so that tax bills can be mailed to the correct property owner. The owner of a lot on record as of April 1st will receive a tax bill.  The town must also be notified if a lot is being subdivided.
For general information, you may call the Town Office. Please refer to your covenants before filing your building applications with LUPC.
Please be aware that all Town roads encompass a right of way that extends twenty-five feet from centerline.