Building and Construction Process in Beaver Cove
Your first steps in the building process are:
It is important you apply to the Town for a Driveway Permit. Stop into the office. Click the Driveway Permit link to print an application. This is so our Roads Coordinator can review and access any foreseeable issues with our current roads. Please return the completed form to the Town Office.
You must also apply to the LUPC for a Building Permit. You may stop into the Greenville Office or call 207 695-2466, or you can print one using the highlighted link. Return the completed form to the LUPC Office for their approval. When approved it would be greatly appreciated if you bring approved copy to the office for our files for future references.
Once you have obtained both these permits, you will need a 911 Physical Address. THIS HAS TO BE ASSIGNED BY TOWN. It will be registered with the
County and State after they approve the number. Please contact Maria Mann or call the Town Office for more information.
CMP will ask for a Form 1190 to be filled out by Town. The TOWN DOES NOT HAVE AUTHORITY TO FILL THIS OUT. Please bring it to LUPC. We contract with
them to do the permitting.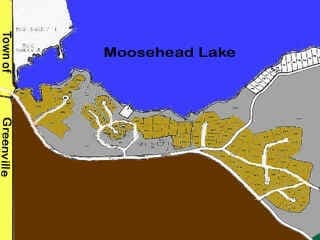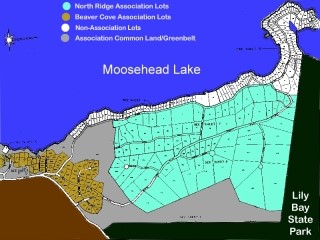 For further information on LUPC's rules, regulations, and the application process, please contact them at the local office located in Greenville. Their phone number is (207) 695-2466.
Land Use Planning Commission: https://www.maine.gov/DACF/lupc/ 
For more information on association covenants, variance procedures and more, please contact the applicable association that you belong to:

Beaver Cove Association
Architectural Review Committee
Robert Frederick, Chair
795 Lily Bay Road – Unit 702
Beaver Cove, ME  04441
207-695-2912

North Ridge Association
Architectural Review Committee
795 Lily Bay Road Unit 713
Beaver Cove. Me. 04441

Burnt Jacket Property
Owners Association
795 Lily Bay Rd Unit #708
Beaver Cove, Me 04441

The town requests that you provide a copy of your title transfer from the county so that tax bills can be mailed to the correct property owner. The owner of a lot on record as of April 1st will receive a tax bill.  The town must also be notified if a lot is being subdivided.
For general information, you may call the Town Office. Please refer to your covenants before filing your building applications with LUPC.
Please be aware that all Town roads encompass a right of way that extends twenty-five feet from centerline.